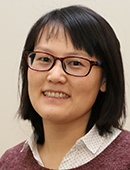 Lili Jiang
Assistant Professor
Group Coordinator, Database and Data Mining Group (DDM)
Department of Computing Science
Umeå University
SE-901 87 Umeå
Sweden


Office: B415, MIT Building
Email: lili.jiang(at)cs.umu.se Phone: +46 (0) 90 786 5827

---
A 2-year postdoctoral researcher position on data mining, data federation, and knowledge system is open in 2018.
---
My research interest is knowledge harvesting through text mining, information retrieval, natural language processing, and machine learning, especially on the following topics:
---
Data Federation
Privacy-aware heterogeneous on registry data
Web people name disambiguation
E-discovery:entity alias discovery in the Web/Enterprise
Crowd sourcing
Entity search
Online social network mining
---
---
Xuan-Son Vu, Lucie Flekova, Lili Jiang and Iryna Gurevych
Lexical-semantic resources: yet powerful resources for automatic personality classification


In Proceedings of the 9th Global WordNet Conference (GWC), 2018.

Lili Jiang. Entity Markup for Knowledge Base Population. PDF


In Proceedings of International Conference on Big Data Analytics (BDA), 2017.

Xuan-Son Vu, Lili Jiang, Anders Brandstrom, and Erik Elmroth
Personality-Based Knowledge Extraction for Privacy-preserving Data Analysis. PDF


In Proceedings of The Ninth International Conference on Knowledge Capture (K-CAP) 2017.

Roberto Gonzalez, Lili Jiang, Mohamed Ahmed, Miriam Marciel, Ruben Cuevas, Hassan Metwalley, Saverio Niccolini
The cookie recipe: Untangling the use of cookies in the wild


In Proceedings of new Network Traffic Measurement and Analysis Conference (TMA) 2017.

Chen Y, Wang A, Ding H, Que X, Li Y, An N, Jiang L A global learning with local preservation method for microarray data imputation


Computers in Biology and Medicine. Aug 5;77:76-89. 2016.

Lizhen Qu, Yi Zhang, Rui Wang, Lili Jiang, Rainer Gemulla, Gerhard Weikum
Senti-LSSVM:Sentiment-Oriented Multi-Relation Extraction with Latent Structural SVM PDF


Transactions of the Association for Computational Linguistics (TACL), 2014.

Ning An , Lili Jiang, Jianyong Wang, Ping Luo, Min Wang , and Bing Nan Li
Toward detection of aliases without string similarity PDF


Information Science, 2014.

Lili Jiang, Yafang Wang, Johannes Hoffart, and Gerhard Weikum
Crowdsourced Entity Markup PDF


The International Semantic Web Conference (CrowdSem) at ISWC, 2013.

Lili Jiang, Ping Luo, Jianyong Wang, Yuhong Xiong, Binduan Lin, Min Wang , and Ning An
GRIAS: an Entity-Relation Graph based Framework for Discovering Entity Aliases PDF


The 13th IEEE International Conference on Data Mining (ICDM), 2013.

Yafang Wang, Lili Jiang, Johannes Hoffart, and Gerhard Weikum
YaLi: a Crowdsourcing Plug-In for NERD PDF


The 36th annual international ACM SIGIR conference on Research and development in information retrieval (SIGIR), 2013.

Jianhua Yin and Lili Jiang
CWePS: Chinese Web People Search PDF


The 14th International Conference on Web-Age Information Management (WAIM), 2013.

Lili Jiang, Jianyong Wang, Ping Luo, Ning An , Min Wang
Towards Alias Detection Without String Similarity: an Active Learning based Approach PDF


The 35th annual international ACM SIGIR conference on Research and development in information retrieval (SIGIR), 2012.

Lili Jiang, Wei Shen, Jianyong Wang, Ning An
GRAPE: A System for Disambiguating and Tagging People Names in Web Search PDF


The 19th International World Wide Web Conference (WWW), 2010.

Lili Jiang, Jianyong Wang, Ning An,Shengyuan Wang, Jian Zhan, Lian Li
GRAPE: A Graph-Based Framework for Disambiguating People Appearances in Web Search PDF


The Internatinal Conference on Data Mining (ICDM). 2009.

Lili Jiang, Jianyong Wang, Ning An, Shengyuan Wang, Jian Zhan, Lian Li
Two Birds with One Stone: A Graph-based Framework for Disambiguating and Tagging People Names in Web Search PDF


The 18th International World Wide Web Conference(WWW). 2009.

Lili Jiang, Jian Zhan, Lian Li, Changxian Shi, Ning An
Utilizing User Behaviors with Semantic Metadata


The 5th International Conference on Information Technology: New Generations(ITNG), April 2008.

Changxian Shi, Jian Zhan, Lian Li, Lili Jiang
A Knowledge Construction System Design Based on Knowledge Grid [J]


Computer Engineering and Science 2007, 10(29): 148-150.
---
---
Privacy-aware Data Federation on Heterogeneous Registry Data (2016- )
Cookie Mining for Online Advertisement concerning Privacy Preservation (2015-2016)
Entity Markup combining Structured and Unstructured Data (2015)
Crowdsourcing-based Entity Markup (2012-2014)
E-Discovey: Scalable Graph Mining and Indexing Methods for Entity Extraction, Relationship Mining, and Tagging from Heterogeneous Data (2009–2011)
Research on the Technologies for Chinese Web (2011)
People Name Disambiguation and Web People Search (2009-2010)
---
---
Xuan-Son Vu (PhD student)
SR (Postdoctoral Researcher)
---
Research on Differential Privacy and Case Studies (master students: Yohannes Samrawit and Bihil Takele)
Natural Language Interpretation in Federated Infrastructure (open)
Personality-Privacy Perception (open)
---
October, 2015 - March, 2016 Research Scientist at NEC Europe Ltd., NEC Laboratories Europe , Heidelberg, Germany
May, 2015 - September, 2015 Endeavour research fellowship at University of Queensland, School of Information Technology and Electrical Engineering , Brisbane, Australia Hosted by Prof. Dr. Shazia Sadiq
November, 2012 - April, 2015 Post-doctoral researcher at Max-Planck-Institut für Informatik, Department 5: Databases and Information Systems , Saarbrücken, Germany Report to Prof. Dr. Gerhard Weikum
December, 2007 - August, 2012
Visiting at the Database Group, Tsinghua University, Beijing, China
Supervised under Prof. Dr. Jianyong Wang
July, 2005 - July, 2006
Volunteer Teacher in China Poverty-Alleviation Relay Project led by China Youth League
---
---
Australian Endeavour Fellowship, Australian Government, Department of Education, 2015
Award of Student Travel Grant & Donald B. Crouch Travel Grant, SIGIR, 2012
Rank Awards respectively in ShangHai,Dongying,Lanzhou and Hengshui International Marathons, 2011/2012
Excellent postgraduate student scholarship, Lanzhou University, 2009
Apple Inc. WWDC Student scholarship, 2007
Excellent graduate student award of Lanzhou University, 2005 (top 10%)
Thrice undergraduate scholarship of Lanzhou University, 2002-2004
The national scholarship of China, 2002
---
---
Program Committee membership, 19th International Conference on Big Data Analytics and Knowledge Discovery (DaWaK), 2017
Program Committee membership, The European Conference on Advances in Databases and Information Systems(ADBIS), 2017
Program Committee membership, ACM International Conference on Information and Knowledge Management (CIKM), 2016
Program Committee membership of Application track, The 3rd IEEE International Conference on Data Science and Advanced Analytics (DSAA), 2016
Program Committee membership of DB track, ACM International Conference on Information and Knowledge Management (CIKM), 2014, 2015
Program Committee membership of the conference on Web Information Systems Engineering (WISE) 2015, 2016
Reviewer of Australasian Database Conference (ADC) 2015
Program Committee membership of Phd Symposium at the International World Wide Web Conference (WWW) 2014
Program Committee membership of the International Conference on Web-Age Information Management (WAIM)2013, 2014, 2015, 2016
Program Committee membership of the 6th Workshop for Ph.D. Students at CIKM (PIKM), 2013
Reviewer of the IEEE Transactions on Kowledge and Data Engineering (TKDE),2012, 2014, 2015, Journal Of Network and Computer Applications(JNCA) 2016
External Reviewer of VLDB, SIGKDD, ICDE, WWW, ICDM , 2008-2011
---
---
---
---
Middle/Long Distance Running, Hiking/Trekking, Cycling
Personally enjoy the quotes from Nelson Mandela "I never lose, I either win or learn".
Cong Hu, a person has been inspiring me.
---